.
The initial visit with Dr. Reiss is 1½ hours long; time spent entirely with the doctor. That first visit is divided into three segments. First, Dr. Reiss asks for the complete medical history of the patient, including details going back to birth and childhood (if possible), family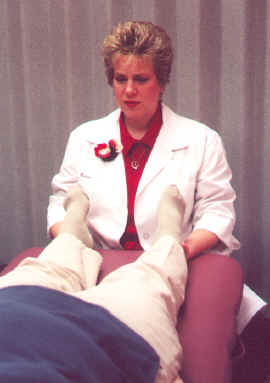 life, career, stresses and lifestyle. She will participate in this history, asking gently for more information about possible sources of imbalance or emotional/physical trauma.
In the second portion the doctor conducts a physical examination, with both conventional (eyes, ears, heart, blood pressure, etc.) and Osteopathic (alignment, tenderness, movement and flexibility) interests studied.
The last third begins the treatment with Osteopathic Manipulative Medicine and other modalities (such as ozone therapy, neural and trigger point injections, the prescribing of Low Dose Naltrexone [LDN] or medical mariquana, etc.). The patient usually remains fully clothed during the entire visit. If appropriate, time is also made available during this first visit to provide lifestyle, dietary and supplement recommendations.
Her treatment room is fashioned for comfort and deep relaxation - with soft lighting, gentle music and the sound of waterfall.
Follow-up visits are a half hour long, and focus primarily on the manual treatments. However, if a patient has serious concerns that he or she wishes to talk to Dr. Reiss about, the emphasis of that visit can shift to accommodate that need. Other factors that can improve the patient's health that were not covered during previous visits are also discussed.
If the patient is an infant or todler, we recommend for the initial visit the parent come with another caregiver so that the medical history can be obtained while the child is in another room playing or resting. This creates no distractions for the parent, and also opens a space for him or her to share (and emote) fully without any concern for what the child may be picking up.
As the title of this page says, this description is for "typical" visits. Special treatments that may address your specific health needs may necessitate adjustments to these regular proceedings.