The following is based on material from Touchstone - Communication for Effective Meeting, as developed by Paul Donoghue, Ph.D., with whom Dr. Reiss has trained extensively. It explains some of the techniques the doctor uses when dialoging with her patients...

Right from the start it is necessary to remove some of the confusion about listening. Listening is more than just hearing the words of another; it involves more than just the ears. Rather, listening is the full presence of one person to another in an attempt to fully und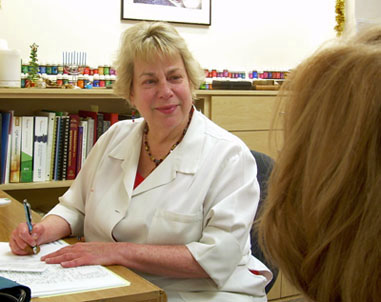 erstand the other at that moment. Hence it is essential that the listener respond to the speaker, so that the speaker knows that the listener is trying to understand what is said:

1. FOCUS ON THE SPEAKER
Since your attention at this time is to try to understand the other, you must stay focused on the other and not revert to talking about yourself.
2. FOCUS ON THE SPEAKER'S FEELINGS
Even though they may not be clear or verbalized, the speaker has some emotions in relation to what is being shared.
Try to focus on what those emotions might be, rather than on the issues that have been raised.
Again, the intention is to understand the speaker first - the emotional and personal reality - then the issues can be focused on more clearly.
3. FOCUS ON THE REASONS – AS PERCEIVED BY THE SPEAKER – BEHIND THE FEELINGS
It is imperative to let the speaker know that you are trying to understand as fully as you are able.
One way to do this is to "feed back" to the speaker the emotions that you are hearing (whether they are clearly verbalized or not) and also to offer back the speaker's reasons for these emotions as you hear them.
To listen to another in this way requires a special blend of discipline and respect - respect for both the speaker and yourself. You must remember that the speaker is essentially making a statement about his or her own reality, not about you. However, inevitably, much of what the speaker shares with you will trigger your own feelings. Try to "tuck these under your arm" for the time being and to continue focusing on the speaker. You can, when appropriate later, share your thoughts and feelings in return. In this manner, both parties communicate fully and richly, without blame or resentment.

Truth and understanding, not mouth and ears, are the cornerstones of genuine communication.