.
Neural Therapy (NT) is an injection-based treatment, popular in Europe but still new to the U.S., that can basically "hit the reset button" on the nervous and immune systems. Dramatic relief from both acute and chronic pain, as well as near-instant resolution of even lingering illness symptoms, have been seen in our office.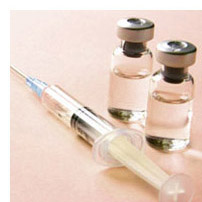 Small amounts of procaine, a local anesthetic used by dentists, is introduced usually near the area of distress to re-establish the normal resting potential of nerves. The anesthesia wears off in a short while, but the relief that comes from the localized calming of body systems, especially when combined with restorative Osteopathic Manipulation, can sustain for profound lengths of time.
As to the injections, the small "prick" involved is well accepted and well-tolerated by most patients - even by those with a fear of needles. It helps that the needles are usually smaller than the ones used in conventional medicine, and frequently little to no sensation is felt at all.
Neural Therapy can be safely combined with any other pharmacological, surgical or natural treatment, facilitating and increasing the efficacy of the whole medical intervention. And since procaine has its own anti-inflammatory properties, anyone - including children and pregnant women - can be treated with NT for such issues as (to name a few):
.